Among them,
wood grain pvc laminatio
n is a new type of PVC decorative material, its functions are varied, and the application occasions are also very wide.
PVC wood grain film is mainly made of high molecular polymer (PVC) as raw material, adding various additives, and a new type of decorative material obtained by calendering, compounding, wood grain printing and other processes. Aluminum plate, iron plate and other substrates are compounded into multi-purpose decorative materials, which are widely used in surface decoration, interior decoration of various household appliances and audio facilities, and interior decoration of aircraft, ships and trains. Also, we can use it for billboards etc. The main feature of PVC wood grain film is that the wood grain is realistic, and it can completely imitate the wood grain of natural plants to achieve the effect of "fake the real". The surface of the
wood grain pvc lamination film
is beautiful, the decoration is convenient, and it is successful once, without additional paint, saving labor and material.
When PVC wood grain film is used in wallpaper, according to the heterogeneity of its functions, we can divide it into three types, namely ordinary type, foam type and functional type. Among them, functional wallpaper is a kind of water-resistant wallpaper, which mainly uses glass fiber cloth as the base material, which can be used to decorate the walls of toilets and bathrooms; fire-resistant wallpaper uses 100-200g/square meter asbestos paper as the base material, and is used in Flame retardants are incorporated into the PVC surface material.
The essence of PVC material is a vacuum blister film, which is used for the surface packaging of various panels, so it is also called decorative film and adhesive film. It is used in many industries such as building materials, packaging, and medicine. Among them, the building materials and decoration industries PVC wood grain films account for a major portion of market applications.
The PVC materials used in the production of PVC wood grain film can be divided into soft PVC and hard PVC. Among them, hard PVC accounts for about 2/3 of the market, and soft PVC accounts for 1/3. Soft PVC is generally used for the surface of floors, ceilings and leather. However, because soft PVC contains softeners, it is easy to become brittle and difficult to store, so its scope of use is limited. Hard PVC does not contain softeners, so it has good flexibility, easy to form, not easy to be brittle, non-toxic and pollution-free, and has a long storage time, so it has great development and application value.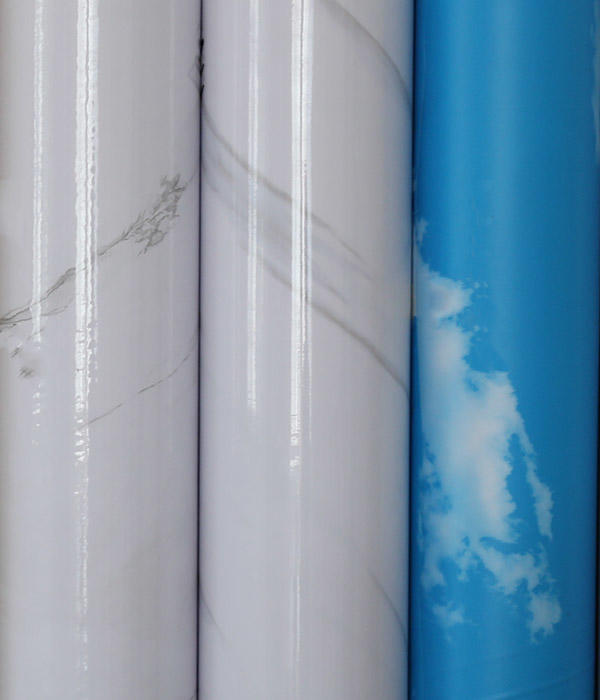 PVC Lamination Film
Thickness: 0.12mm-0.3mm
Width: 1130mm, 1260mm, 1280mm, 1350mm
Function: For PVC panel, PVC wall panel, ceiling, PVC marble sheet, PVC foam board, MDF, WPC